Widgepedia
From Widgepedia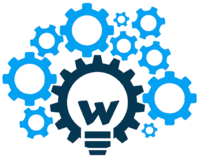 Widgepedia is a support wiki for teachers who use or are interested in using Widgets Inc.: A task-based course in workplace English (2018, Atama-ii Books) in their English classes. If you are not familiar with Widgets Inc., please read about the course.
This is a wiki, so we expect that it will always remain a work in progress. As we get new ideas for improving the course, we will add them here. Likewise, if you have an idea which could help other teachers to use the course, please let us know.
Anyone can access and use the materials on Widgepedia.
Unfortunately, we have been forced to turn off the open editing feature of the wiki, due to a high number of spam-bot attacks. If you would like to contribute to the wiki, please email us at the email address below, and we can make the addition or change for you.

License
Regarding license and permissions:
1. Widgets Inc. Print & Digital Editions (i.e. the coursebook itself) is published under a standard copyright license (2018, Atama-ii Books). This means that all permissions to copy and share it are reserved by the publisher. The print edition may be purchased internationally through our Japan-based partner, englishbooks.jp: Widgets Inc. print edition. If you purchase a print edition, we will gladly provide you with access to the digital edition upon request, at no extra charge. Digital-only purchases can be made through Issuu: Widgets Inc. digital edition.
2. Special requests and permissions. If you would like permission to print or copy pages or text from the book, please contact us at publisher@atama-ii.com. We are always happy to accommodate reasonable requests. If you are involved in SLA research or wish to review the course, we can gladly provide you with free digital access upon request. Note that we may ask that you verify your academic affiliation.
In 2020, to support teachers during the COVID-19 emergency, we can provide free access to the digital version upon request. Simply email us at the address below (in the yellow "Atama-ii Books" logo).

3. Widgepedia.com (i.e. this website) is licensed under a Creative Commons Attribution-NonCommercial-ShareAlike 4.0 International (CC BY-NC-SA 4.0) license. This means that you are able to share (that is: copy and redistribute the material found here) and adapt (that is: remix, transform, and build upon the material) as long as you follow the terms below.
Attribution — You must give appropriate credit, provide a link to the license, and indicate if changes were made. You may do so in any reasonable manner, but not in any way that suggests that we endorse you or your use.
NonCommercial — You may not use the material for commercial purposes.
ShareAlike — If you do remix, transform, or build upon the material, then you must distribute your contributions under the same license as the original.
No additional restrictions — You may not apply legal terms or technological measures that legally restrict others from doing anything that our license permits.
To be clear: the CC BY-NC-SA 4.0 terms apply to everything on this website except the coursebook itself: i.e. not to the print version, and not to the digital version. The coursebook itself remains under a standard copyright license. Thank you for your cooperation.